Welcome to Ormond Aircraft Brokers. We are a family owned FBO located in Northeastern Florida, on the field at Ormond Beach Municipal Airport (KOMN). We offer a full range of services for piston engined aircraft. Click on over to the Service page to look at our offerings. We usually have some interesting airplanes for sale, so take a look there as well. We also offer aircraft restoration services, you can find more about this in the restoration section of our web.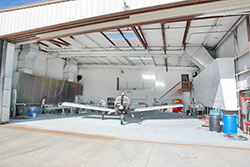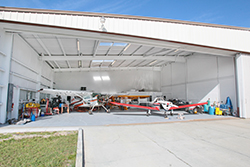 With a 3500 square foot maintenance shop and a 3500 square foot balanced flow paint booth we can offer expanded refinishing and restoration services to the owners and operators of large aircraft. We also offer interior refurbishing through our partner Kadalec Interiors.
Our paint staff includes 30 years of experience with aircraft painting. Because we are a full service shop, we can take care of your annual inspection at considerable saving while your plane is disassembled for painting.
Click on over to see a complete description of our paint process here.
We think the only thing more fun than working on airplanes is flying our Marquart Chargers, whether to Oshkosh or to Sunday morning breakfast. If you're in the area, stop by and say hello, if we can be of service, give us a call or email us here. We'd be pleased to have a chance to earn your business.
Blue skies and fair winds.
Steve (Roscoe) Searle, Jr Steve (Three) Searle, III Mark Sica